In this blog post, I will reveal my copywriter secrets to how to structure and write the perfect About Me page if you are a freelancer or service provider.
You'll find out exactly how to write a beautiful and effective About Me page that will attract and convert your website reader into clients.
We will also cover some common mistakes that freelancers and creatives might be making on your About Me page and give you some actionable steps to get you going straight away.
Ready to discover what exactly makes for a brilliant About Me page for service providers? Let's dive right in.
Why is Your About Me Page Important if You Are a Freelancer?
So, you have finally decided to have an online presence and make a website for your freelance business.
But have you decided what your "About Me" page is going to look like? What kind of story is it going to tell your potential clients?
As easy as it may seem, writing an About Me page can be a pretty challenging job, especially when it is one of the ten most visited pages of a site.
Here's mine last week – at number 3:
And if you are a freelancer, service provider, consultant or coach, this fact will interest you. On most websites, the About Me page is visited more than the "Our services" page! This is because the clients want to know more about you before your work.
All this information might make you wonder whether your About Me page is interesting enough? Is it engaging enough to make people like you, connect with you and want to work with you?
Common Mistakes While Writing a Freelancer "About Me" Page
Most freelancers, entrepreneurs or bloggers struggle with writing an About Me page because they can't decide what exactly they should be talking about.
And most of them make the mistake of writing just about themselves.
This leads to them making one of two mistakes:
1. They either share very little about themselves and keep it strictly professional, or
2. They include their entire life story from birth to the present.
Here's why these 2 things are problematic:
If your About Me page has only your professional details in 3-4 lines without any personal touch then chances are your clients will get bored and won't consider working with you. After all, if they needed a resume, they would've gone to your LinkedIn profile instead.
About Me pages are different from a resume.
Think of this page as a dish in which your professional information acts as pepper and your personal story acts as salt. And a good About Me page will have a pinch of both so that your brand doesn't taste bland.
But if you're still struggling to decide what to write and how much information you should share then don't worry, I have got you covered.
Grab a drink and get ready to write a compelling About Me page that will help you build trust and a personal connection with your clients.
8 Tips To Help You Write The Perfect About Me Page For Your Freelance Business
1. It's not about you (the freelancer), It's about the reader (the client)
We all have heard that the first impression is everything and it decides your future relationship with a person. Similarly, your About Me page acts as the first impression of you and your business. It should be welcoming and provide your readers with an opportunity to form a connection with you.
Imagine you are going on your first Tinder date. They've seen your picture and read a few lines about you (think Home Page or Social Media profile – wherever they might have found you before heading over to the About Me page). Now, you see each other and take a seat at the window table.
What are you wearing? What do you say? How do you act?
What I'm really asking is: what's your hook?
The first line on your About Me page has to hook your reader. From the get-go, they need to know that they are in the right place and that you are worth their attention for the next few minutes.
Your About Me page should be more than your picture and a few lines about your profession and services. On the other hand, it also shouldn't linger on what you love and don't love because your clients won't care about that. Remember: what's in it for them?
You need to sell yourself as someone who your clients can trust and come back to. They don't care about you as an individual, they care about what you can offer them. But how do you sell without "selling"?
Finding a balance between writing about yourself and your services can be very daunting and trust me I have been there too.
But after spending a good amount of time researching what my client is really looking for and how my core values resonate with theirs, I was finally ready to come up with a compelling About Me page that entices my readers to keep reading until I ultimately steal their hearts and lead them to book a call with me.
2. Stay on topic
You have about 50 milliseconds to make a first impression. That's the amount of time your reader will give you before deciding whether to keep reading or click out.
So, don't just ramble about your life story, always tie it back to what the reader would care about, which always is your products or services. Instead, use this time wisely.
But how do we do this. Don't worry.
There's a method to this About Me page madness. Here's what to do before even starting to write:
Define your niche and your customer
Try to relate to your customers by stepping into their shoes. Think about where they might be struggling and what would be keeping them up at night.
Once you have figured that out, you can easily connect with your customer by acknowledging their problems and showing how you can help solve them.
Pretty simple, right? Let's keep going.
3. Use the PAS Copywriting Formula
There are many ways to write compelling copy, but since this is your first time, let's keep it simple.
We'll use the foolproof copywriting formula, Problem – Agitate- Solution (PAS)
Start your About Me page by stating a problem or negative situation. Here, you are acknowledging and validating something your potential client has been struggling with.
Go deep on the problem. Show them you understand how they are feeling and how this issue is affecting other areas of their life. You know it because you've been there before. You've struggled with the same things.
Then move on to the solution. Share how you figured it all out and how you are here to help them solve that specific problem too.
This method will make your clients think, "Are you in my head? That is exactly what I am struggling with!" and they will know you genuinely understand their problem, you get how important it is for them to find a solution and you have that solution ready to go.
For instance, is your client struggling to find an agency that they can trust blindly to do right by them? Redonk Marketing realized that was what their client was dealing with and made sure to have that cleared up on their About page:
4. Use your brand voice
Always use your brand voice. You are not a robot, your copy is not one either.
Finding your brand voice and then sticking to it is really what helps you stand out and build that heart connection. People love working with people they like, right?
So, develop your brand voice and use that voice in your About Me page to catch your clients' attention.
If you can't figure out your brand voice then you don't need to look anywhere else but within yourself.
As service providers, most of the time our own personalities define – or, at least, influence-our brand voice.
So, if you think you are bubbly and frank then your brand will automatically become a reflection of your personality.
But if you think you are more reserved, you can use a more subtle brand voice and tone on your About Me page.
Need some prompts to help you find your brand voice? Download my FREE brand voice guide now. This is the exact guide I use with clients when we begin the process of developing their unique brand voice together.
When coming up with your brand voice, remember that there is no right and wrong here.
Every brand and entrepreneur's voice and style are different and being true to your own voice is far better than copying someone else's style.
So, avoid trying to sound like your competition or some cool page you discovered Google – that's not you. Unless that person resonates with you, then you can always let yourself be inspired!
Whichever style you choose to adopt, this question should always be guiding you throughout your About Me page:
What's in it for them?
For instance, as someone who aspires to educate more people to hustle less and live more while finding financial freedom, I made sure to let my brand voice shine while keeping my focus on what my audience needs the most:
5. Use the first person
This is my personal preference, but one that I believe fully.
If you are a freelancer, service provider or blogger, always write your About Me page in the first person, not the third person.
Why? Because the more direct you are, the easier it is to connect. This small shift in language removes an invisible wall between you and your audience. Read this and make up your own mind:
My mission is to help creative freelancers and entrepreneurs, like you, find their authentic brand voice, develop a solid content strategy and win over their ideal clients' hearts.
Vs
Chadvee's mission is to help creative freelancers and entrepreneurs find their authentic brand voice, develop a solid content strategy and win over their ideal clients' hearts.
See the difference?
It might look like a small thing but switching to first-person helps greatly in connecting with your audience faster.
We all love real human connections and interactions.
And although your About Me page is just another screen over the internet, using first-person language will make your readers feel like you're addressing them directly. They are interacting with a real person.
Using first-person language on your About Me page – I, we, or me – makes your tone and content conversational and relatable.
When you use third-person language on your About Me page, readers might feel they are going through your VA, marketing manager or anybody else on your team before finally reaching you.
Besides, it helps you show off your real personality to your clients and establishes a clear brand voice. Here's an example of direct, first-person language by Tracie Fobes:
6. Highlight your core values
Every business or individual has core values that they live by.
And as a brand, it is important for you to highlight your core values on your About Me page as it helps clients see whether their values align with yours.
So, craft out your core values carefully and show them off on your About Me page then they can help you connect with many potential clients.
There are different ways you can show off your core values. Some make it very obvious, with a section dedicated to all their core values. Others, like me, prefer to string them throughout the copy. It becomes part of the story. Both methods are fine, so choose whatever works for you.
Here's an example on my About Me page. See what I did here?
By including your core values on your About Me page, your client understands what your brand stands for, how it operates, and how it values above all.
You don't need to craft overtly political and revolutionary core values just for the sake of your About Me page.
They can be as simple as your mission statement or something you deeply care about. But it is important to highlight those values because they help in building long-term relations and loyalty with your customers.
My mission statement is written with my core values in mind. In this case, being authentic and heart-centered:

7. Share your story
Now that you have established your brand's voice, your mission, and your core values it's time to tell your clients about yourself, your personal journey, and where you come from.
But you still need to make sure you are telling them the right things and not boring them with unnecessary details.
When telling our stories, it is natural for us to describe each and every struggle and ups and downs that we have faced along the way. But, remember, this is your first Tinder date, not your 5 year anniversary dinner.
So, choose only those struggles and details that you believe your clients can relate to and would attract them to you the most.
For example, if your brand is about providing life coaching services then you would want to highlight your journey of becoming an expert life coach and the hurdles you faced in that journey.
Highlighting obstacles that don't necessarily have anything to do with your journey as a life coach will bore your clients and they will lose interest.
Remember, your reader's attention span is limited. What can you tell them that's going to make them excited to keep reading?
Here's a quick exercise you can do to help you. Ask yourself questions like:
Is this particular incident or detail relevant to my services?
Does it support the claim that I'm making in my pitch?
Will it be helpful to the reader in any way?
How does it inspire my clients or readers?
Will they gain anything from this particular event?
Here's an example. Sarah Nuren is many things and has had many life experiences that have influenced her to become what she is today. But these are some of the key pieces of information she thought was important to share with her ideal audience:
8. Include a call to action
By now your clients or readers should be primed and ready to connect with you and work with you.
And after writing an interesting About Me page you don't want to leave them stranded. Remember, your About Me page isn't just a bunch of texts and information with no aim.
Since, you have spent so much time wanting your clients to connect with you, give them a call to action button or option to lead them to their action.
What should be the next step for your readers to connect with you?
Maybe provide them with your email address or any contact information to connect with you. Or send them to your service page? Do you have a great lead magnet for them to download or a webinar to join to get to know you and your offer better?
You can also ask them to sign up for daily updates or your newsletter or ask them to follow you on social media so they stay connected with you on multiple platforms.
Whatever option you decide to go with, make sure you are encouraging them to stay engaged with you.
Note that you can have more than one CTA but I recommend not having more than 2 or 3 so as not to overwhelm the reader.
Here's what my CTA looks like on my About page.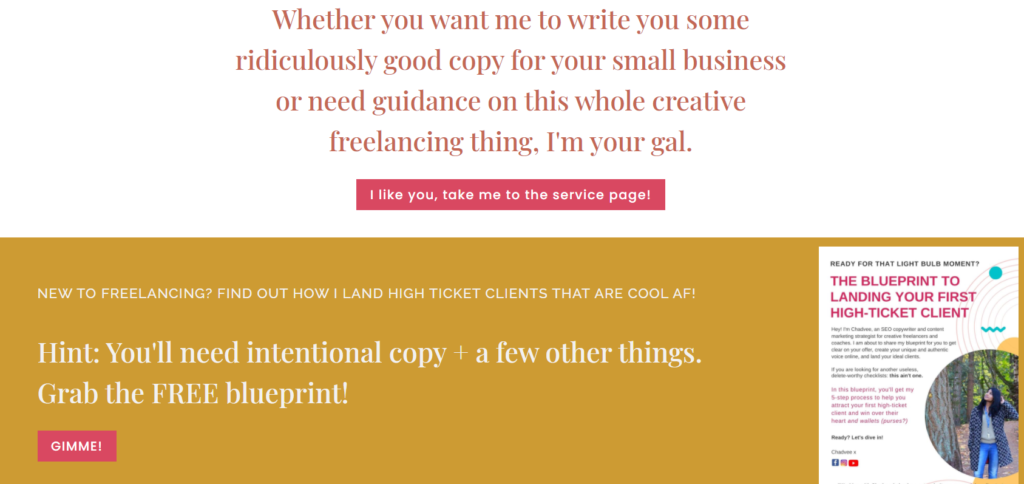 Get Ready to Write Your Perfect About Me Page
And there you have it. Actionable tips on how you can write a successful About Me page that is interesting, creative, as well as engaging.
Take the next 15 minutes to go over your About Me page and write down anything you think is wrong with it based on this guide. Then, schedule some time out and get down to business.
Being a freelancer is hard work, but will the right tools, you can make it work! A solid About Me page is one of them.
I'd love to see your About Me page and critique it once it's revamped! Take screenshots of before and after and send me links to your website on hello@chadvee.com and I will go over as many as I can on my Youtube channel!
Don't forget to share this post if you found it useful.
Until next time, keep being creative.
Chadvee xo